posted by www.equatorialguineaonline.com March 24th, 2013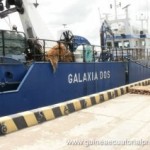 Global Pesca Guinea Ecuatorial began its fishing operations a few months ago in the area of the Litoral Region with a huge success, both in results and in sales. This is an equal joint venture between the Government of Guinea -which owns 50% of the company (through the State company Sonapesca)- and Siglobal, which owns the other 50%. Siglobal is an international multidisciplinary company with many divisions, not only in fisheries but also in engineering, shipbuilding, port cranes, civil construction, renewable energy, etc.
The company Global Pesca Guinea Ecuatorial began its fishing operations on the coast of Equatorial Guinea with two ships equipped with the latest technology: the trawler Galaxia II and the longliner Vicmar Un. Between the two, they capture a large variety of fish, all very popular in the Guinean consumer market, such as large-eye dentex, sea bream, wreckfish, ray, angelina, red gurnard, hake, pompano, sole, saino, dentex, squid or cuttlefish, swordfish, tuna, gilthead bream, marlin, sailfish, barracuda, makos… On average, between the two ships, they fish 120 tons, some 120,000 kilos per trip of 40 days.
Their deep-freeze method for fish while at sea allows the product to reach the consumer with all the natural features that it had at the time it was caught, so it retains all its freshness and flavor. Today, the fish are sold in the Bata fish market and in the Muankaban markets of Malabo, but the company Global Pesca GE, in collaboration with the Ministry of Fisheries and Environment, is preparing a new sales base equipped with electricity through solar photovoltaic panels in the Rotunda of the Los Angeles neighborhood, opposite the Hotel Tropicana. It will be a new market for high-quality fish, which will be sold at an affordable price for all Equatorial Guineans.