Posted by www.equatorialguineaonline.com – September 5th, 2013
Yesterday, Monday, the Presidency of the Republic published the decrees appointing the Prime Minister of Government to Vicente Ehate Tomi and Deputy Prime Ministers to  Clemente Engonga Nguema Onguene, Lucas Nguema Esono and Alfonso Nsue Mokuy.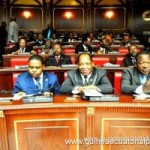 Vicente Ehate Tomi, Prime Minister of the Government for Administrative Coordination, was confirmed in his position, according to Decree number 119.
Clemente Engonga Nguema Onguene continues as First Deputy Prime Minister for the Political Sector, Democracy and Minister of Internal Affairs and Local Corporations, Lucas Nguema Esono, Secretary General of the Democratic Party of Equatorial Guinea (PDGE), goes on to be the Second Deputy Prime Minister for Social Affairs and Minister of Education and Science, according to decrees number 120 and 121.
Finally, Alfonso Nsue Mokuy was appointed Third Deputy Prime Minister for Human Rights, according to decree number 122.
In the upcoming days, the swearing in of offices will take place before the President of the Republic, H.E. Obiang Nguema Mbasogo.