posted by www.equatorialguineaonline.com – February 18th, 2013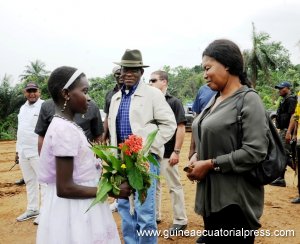 This first visit of President Obiang Nguema Mbasogo and his wife to Ureca so far this year 2013 has coincided with the celebration of the patron saint of the town. The presidential couple was received by various authorities led by the chairman of the monitoring committee of the Democratic Party of Equatorial Guinea of Luba, Aniceto Ebiaka Mohete.
During the inspection visit, the presidential couple was informed about the drive of the work, the execution time and the date of delivery to the Government for the operation of a road that is a major advance for the people of this jurisdiction. So far, in order to travel to Malabo or Luba, they had to use canoes, which on occasion resulted in the loss of material and even of human lives.
In his desire to see the plan drawn up by the Government finished, in view of Horizon 2020 and, in particular, of the executive program for the Province of Bioko-Sur, Obiang Nguema Mbasogo has given orders to the directors of the firms responsible for the works to expedite them, and to comply with the requirements of the department of infrastructures and urban planning and the office of GEproyectos in order to ensure the perfect execution of said road.
In a meeting with the local population, the Head of State, in addition to wishing them a happy 2013 and Holiday of the Patron of their village, invited them to maintain the current climate of peace that exists in the country, as well as good social coexistence. According to Obiang Nguema Mbasogo, this visit is the beginning of the development that this town will soon experience, which, in the President's opinion, should become a tourist center of reference.
The presidential couple also gave to the population of Ureca various presents and school supplies for the children, so they could celebrate with joy their patron saint, a gesture that was appreciated by everyone.
On the way back to Malabo, President Obiang Nguema Mbasogo and his wife visited places in the Ureca area, where the Government intends to implement other works for the benefit of the surrounding population.