posted by: equatorialguineaonline.com January 6th, 2014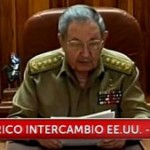 Malabo, Dec 20 (Prensa Latina) The President of Equatorial Guinea Teodoro Obiang Nguema congratulated his counterparts Raul Castro, Cuba, and Barack Obama, US, for the announcement of restoring the diplomatic relations between their countries, it was released here today.
The main news of the Equatorial Guinean television broadcast two congratulation messages of Obiang Nguema, who in one of them says to "his dear friend and brother Raul Castro that these ties will be benefitial for both peoples".
Regarding this, the Minister of Foreign Affairs and Cooperation, Agapito Mba Mokuy, celebrated the release and return to the island of three Cubans unjustly imprisoned in the northern country for fighting terrorism.
Upon receiving in audience the Cuban Ambassador Pedro Doña, Mba Mokuy said that the return of the Five, internationally known as the Cuban Five, and the resumption of diplomatic ties would contribute to normalize relations.
He called for the blockade imposed to the Caribbean country for over five decades to be lifted, a measure that his government has always rejected.
He said that the willingness and support of the Holy Father and the government of Canada to provide spaces for those conversations to take place are examples of what can be done to unite peoples.
Meanwhile the President of the Senate, Teresa Efua Asngono, from the mainland of the country where she is on a working mission, told Ambassador Doña via telephone to extend the Cuban government and people her sincere congratulations on the announcement of the resumption of ties between Havana and Washington.