posted by www.equatorialguineaonline.com – October 2nd, 2013
Mark Asquino congratulated the Government for the speech made by H.E. Obiang Nguema Mbasogo condemning the use of chemical weapons in Syria.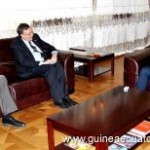 The Minister of Foreign Affairs and Cooperation, Agapito Mba Mokuy, accompanied by the Delegate Minister, Pedro Ela Nguema Buna, granted an audience in his office at the ministry headquarters, on Tuesday, October 1, to the U.S. Ambassador to Equatorial Guinea, Mark Asquino. The visit recently made by the Head of State to New York to attend the United Nations General Assembly and his activities during his stay in the city were the topics discussed during the audience.
The statements of President Obiang Nguema Mbasogo in his address to the Assembly of the United Nations, condemning the use of chemical weapons in Syria, and demanding their removal, were applauded by the United States through its Ambassador.