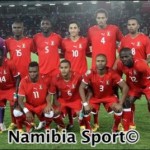 posted by www.equatorialguineaonline.com – May 20th, 2013
Equatorial Guinea has been named as the replacement for Tanzania in the COSAFA Cup Zambia 2013 field after the latter were forced to withdraw.
The Taifa Stars became ineligible for the tournament as it clashed with a revised date for their African Nations Championship (CHAN) qualifier against Uganda in July.
The East African nation was set to make their second visit to the Southern African regional championship that runs from July 6-20 after appearing in the inaugural tournament in 1997.
But a change in date for their CHAN qualifier has meant there is a clash of schedules and they have had to decline their invitation. Instead their place will be taken by Equatorial Guinea, who played at the 2012 Africa Cup of Nations as co-hosts.
"We asked Uganda to reschedule the games but they refused. We therefore have no option but to withdraw from the COSAFA outing," Tanzania Football Federation secretary general Angetile Osiah said.
"We are disappointed to lose Tanzania for this event because they are an exciting team which has achieved a lot in the last few years. But we understand their reasons and wish them well in their CHAN qualifier. We are, however, delighted to have Equatorial Guinea as part of the field. They will add another exciting element to the competition," says COSAFA President, Mr Sukethu Patel.
Equatorial Guinea will take Tanzania's place in Group A alongside Namibia, Mauritius and Seychelles.
There will be another East African guest nation at the tournament though with Kenya set to take part in Group B alongside Botswana, Lesotho and Swaziland.
The COSAFA Cup makes a return to the international football calendar for the first time in four years after the last event that was staged and won by Zimbabwe in 2009.