Posted by equatorialguineaonline.com – November 17th, 2014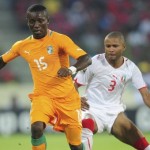 The decision to have Equatorial Guinea host the cup has stirred controversy as nation had previously been disqualified.
The Confederation of African Football announced Friday that Equatorial Guinea will host the 2015 Africa Cup of Nations, which will be held in the Spanish-speaking country from January 17 to February 8.
Morocco was set to host the Africa Cup of Nations but was stripped of hosting duties after officials from that nation suggested the event be postponed over fears of Ebola. Morocco was also disqualified from participating in the tournament. Equatorial Guinea had itself been disqualified after fielding an illegible player in August, as host they will now be allowed to participate.
"The head of state of Equatorial Guinea agreed to host the competition. As a result, the CAF executive committee confirm that the tournament will go ahead and Equatorial Guinea will compete as the host nation," a statement from African soccer's governing body said.
"CAF wishes to express its sincere thanks to the Equatorial Guinean people, its government and particularly president Obiang," the statement concluded.