Posted by www.equatorialguineaonline.com – January 9th, 2014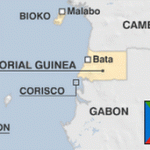 Equatorial Guinea has denied reports that its borders with Cameroon and Gabon were officially closed on 1 January.
But a government spokesman told the BBC the oil-rich nation was not ready to implement a deal on the free movement of citizens in the regional bloc.
The six-nation Central African Economic and Monetary Community (Cemac) agreed to abolish visas from 2014.
Hundreds of Cameroonians are waiting to cross the border post at Kye-Ossi.
Local residents told the BBC's French for Africa service that the border was last open on 31 December.
The BBC has also confirmed that Equatorial Guinea's border with Gabon is shut.
Equatorial Guinea's government spokesman Frederico Abaga Ondo told the BBC it had been agreed that before the free movement deal came into force, regional passports were to be introduced and immigration officers trained.
"None of these has been done," he told BBC Afrique.
Officials from Equatorial Guinea have previously said the free movement of Cemac citizens would undermine efforts to provide employment for its own citizens.
Equatorial Guinea is the third largest exporter of oil in sub-Saharan Africa after Nigeria and Angola.