published by www.equatorialguineaonline.com – March 16th, 2013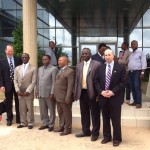 A delegation of companies from the United States on an economic mission in Equatorial Guinea, led by MAECI, visited the headquarters of the Equatorial Guinea Chamber of Commerce – Bata on Thursday.  The purpose of the delegation's trip to Equatorial Guinea was in response to H.E. President Obiang's appeal for assistance from United States companies in the diversification of the country's economy, and the strengthening of Equatorial Guinea's private sector.
The U.S. Economic consortium attended a meeting with the EG Chamber of Commerce (Bata) leadership.  In addition, the private business sector was represented by business owners located in the city of Bata.  The U.S. Economic consortium presented the concept of assisting and investing in the private sector of Equatorial Guinea.
The consortium reinforced the concept by explaining that the success of the U.S. economic growth over the past 70 years has been based on the building of the private sector.
The U.S. private sector was built and financed by private investment, Government subsidy and international joint venture.
The delegation of U.S. companies stated that they were extremely interested in partnering with the private sector of Equatorial Guinea, and will look to bring financing solutions and industry knowledge to build this partnership.