Posted by www.equatorialguineaonline.com – October 3rd, 2013
H.E. Obiang Nguema Mbasogo sent, on Tuesday, October 1, congratulations to his counterparts on the occasion of the celebration of Independence Day in their respective countries.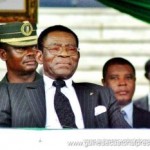 The messages were addressed to Yoweri Museveni, President of the Republic of Uganda, Goodluck Jonathan, President of the Federal Republic of Nigeria, Xi Jinping, President of the People's Republic of China, for the celebration of their Independence Days. He also sent his best wishes to Joachim Gauck, President of the Federal Republic of Germany, and Angela Merkel, Chancellor of the Federal Republic of Germany, for the 23rd anniversary of the reunification of their country.
The President of the Equatorial Guinea sent all of them the congratulations from the people and the Government of Equatorial Guinea, and expressed their best wishes for peace, progress and prosperity. He also reaffirmed his desire to maintain and strengthen the excellent relations of friendship and cooperation with all of them.