Posted by www.equatorialguineaonline.com – October 10th, 2013
On the occasion of the 45th Anniversary of the Independence of our country, the President of the Republic is receiving congratulatory messages from his counterparts and diplomatic missions abroad, such as those sent by the Ambassador accredited in the United States, Dr. Ruben Maye Nsue Mangue.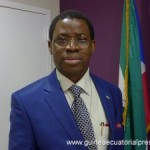 -"To His Excellency, President of the Republic, Head of State and Government, on the occasion of the 45th Anniversary of the Independence of our beautiful country, I have the honor of congratulating you on behalf of the colony of Equatorial Guinea in the United States of America, this Embassy's staff, my dear wife and children and myself, while we pray to God the Father Almighty to grant you health, long life and wisdom to continue the work that the people of Equatorial Guinea have entrusted to you.
Your Excellency, the realization of the policy laid down by Your Excellency, despite the unjust international order that certain countries and organizations with undeclared interests seek to transfer to developing countries, kidnapping their progress, by degrading intoxication and destabilization of its leaders, has made Equatorial Guinea into a leading country in Africa at the regional and international level, both in defense of its sovereignty and dignity, and in its striking unique socio-economic development which must be undertaken and defended together by the African States.
Our earnest desire is that Your Excellency once again accepts the sincere congratulations that we express wholeheartedly to your august family and all the people of Equatorial Guinea."