Posted by www.equatorialguineaonline.com 12/15/13
The Inter Mediate Lions of Cameroon in the second match in the on going Cemac Cup competition, have defeated Equatorial Guinea by 2-1.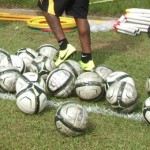 This victory that comes barely 3 days after the humiliating defeat they suffered in their first match in the Competition against host Country Gabon. At the start of the match, it was a determined Lions squad that got into the match with all desire to grab the 3 oints of the day.The first 20 minutes of the match saw the Lions mounting so much presure on their opponents ,but unfortunately were not able to open scores.Their efforts paid off at the 30 minute of the match when Oyongo Bitolo recieved a golden pass from his team mate and did not waist any time to concretise their opportunity with a goal. It was 1 for cameroon and 0 for Equatorial guinea.Upon resumption for the second half of the match,the Equato guineans started showing signs of wanting to score,but each time they did so,they met a stive defence from Cameroon.But their efforts paid at the 70 minute when they scored from a corner kick poorly managed by the Cameroon defence.This goal was bitterly accepted by the Lions who mounted more presure and at the 78 minute of play scored their second goal of the match and the day.Its this goal that gave them an upper hand during the match .At the end of the day, it was 3 points that the Lions had grabbed and now puts theml on a confortable situation to sail to the next round of the competition.