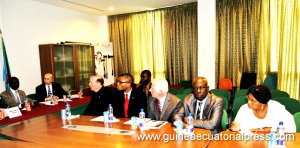 Posted by www.equatorialguineaonline.com – March 12th, 2013
At the headquarters of the Chamber of Commerce of Bioko, Gregorio Boho Camo, president of the entity, received a delegation of seven U.S. businessmen, headed by Chris J. Massaro, the Vice President of the company Maeci, and composed of representatives from Philadelphia International Medicine, Leonard Karp, and the presidents of Sun-In-One New Electrical Solar Light and Power Products, William Rawheiser, and that of Flow Enterprises, Florian Kouamou, among others.
The aim of the visit of the delegation was to correspond to the invitation that the Head of State, Obiang Nguema Mbasogo, made to the North American businessmen during the World Economic Forum held in Houston in 2012 to support the national private sector. The sectors that are to be analyzed and evaluated for investment opportunities in Equatorial Guinea are agriculture, transportation, human resources, technology and health.
Gregorio Boho thanked the delegation for their visit, and said that "we are open to developing the cooperation program in the sectors in which North American businessmen want to invest in Equatorial Guinea."
The ceremony was also attended by the Vice President of the Chamber of Commerce of the Continental Region, Rosendo Ela Baby, the Director General of Small and Medium Businesses, and the Secretary of the Chamber of Bioko, among others. The delegation's visit will be extended to the mainland.