posted by www.equatorialguineaonline.com – July 9th, 2013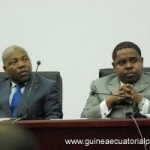 The course was organized by the World Bank and funded by the Government of Equatorial Guinea through the Ministry of Finance and Budgets. It was attended by college graduates, as well as administration officials and directors general of public and State companies.
The Prime Minister of Government for Administrative Coordination, Vicente Ehate Tomi, attended the beginning of the course in the meeting room of GEPetrol. The event was also attended by the Minister for Finance and Budgets, Marcelino Owono Edu, that of Planning, Economic Development and Investment, Conrado Okenve Ndoho and the World Bank Director for Equatorial Guinea, Gregor Binkert, among others.
-"We are confident that this training session will contribute to the modernization and professionalization of the public and private sectors, which is part of the National Social-Economic Development Plan designed for Horizon 2020," said Gregor Binkert.
For his part, the Minister of Finance and Budgets thanked the President of the Republic, H.E. Obiang Nguema Mbasogo, for his support in the training of human resources, and the Prime Minister for his impetus for this training.
He advised the students to make the most out of the opportunities to study and said, "With this first training session in business management, we provide tools to our executives, to achieve the objectives of increasing efficiency and control in the management of public resources" said Owono Edu.
On the other hand, the Prime Minister in his speech also defined the training session as one of the objectives of the Government's Plan for Horizon 2020.