posted by www.equatorialguineaonline.com – May 1st, 2013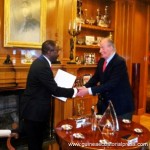 The Minister of Foreign Affairs and Cooperation of the Republic of Equatorial Guinea, Agapito Mba Mokuy, went to the Zarzuela Palace to be received in audience by the King of Spain, Juan Carlos I, accompanied by the Counselor of the Presidency of the Republic, Pastor Micha Ondo Bile, and the Secretary of State for Foreign Affairs of Spain, Gonzalo de Benito Secades.
Mba Mokuy transmitted to the Spanish monarch the message of H.E. Obiang Nguema Mbasogo, and in an atmosphere of clear cordiality, they discussed bilateral relations between Malabo and Madrid.
The Minister of Foreign Affairs already carried out an official visit to Spain last November to sign the Aviation Agreement between Equatorial Guinea and Spain with his Spanish counterpart Jose Manuel Garcia-Margallo.